Pre- school Reopening
Pre- school Reopening
29 August 2020 (by Tracy Cottam (TCottam))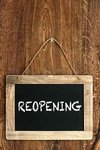 Good Morning!
Pre-school will open once again on Thursday 3rd September.
If your child has a session on Thursday or Friday we look forward to seeing you next week!
We will then be open as normal from Monday 7th September welcoming all children back.
We can't wait to welcome back our existing children and of course the new children to our setting.
See you all very soon!
Thank you,
Early Years Team