Year 3
Messages and updates during school closures:
EGYPTIAN MUMMIES!
Remember way back in February when we learned all about the Mummification process that the Ancient Egyptians followed? Well, Y3S mummified oranges following their step by step process! I promised the children we would unwrap them in July before we broke up for the Summer holidays and I did not want to let them down! Here is a video showing the unwrapping!
You will notice as you watch that the bandages are stained, this is because the salt used in the process draws out moisture from the orange (or the bodies in Ancient Egyptian times!) Also, the orange is in fact preserved! There is no mould or rot on the orange just like the bodies would have been!
29.6.20
The next home learning pack is below for you to download, or, you can pick it up from school!
15.6.20
The next home learning pack for the next two weeks can be picked up from the school office or downloaded from here.
Take part in our Lockdown Reading Challenge!
Simply take a photo of yourself while reading in an unusual or funny place and email it in to school! I will be creating a gallery as soon as all entries are in and a display in school for when we return!
1.6.20
Here is the next learning pack for June 2020!
14.5.20
May is National Crime Reading month!
To support you with reading at home here is a reading challenge for you!
Wigan Libraries have created a Children's Mystery Books Quiz. They will be sharing this on their Wigan libraries Facebook and Twitter pages too starting on Thursday 14th May. The answers can be researched and enjoyed together with your families and they might inspire you to read some wonderful new books!
Wigan Libraries will post the answers to the quiz on their social media on Thursday 21st May, along with ideas for follow up activities! I will post them on here too!
Happy quizzing!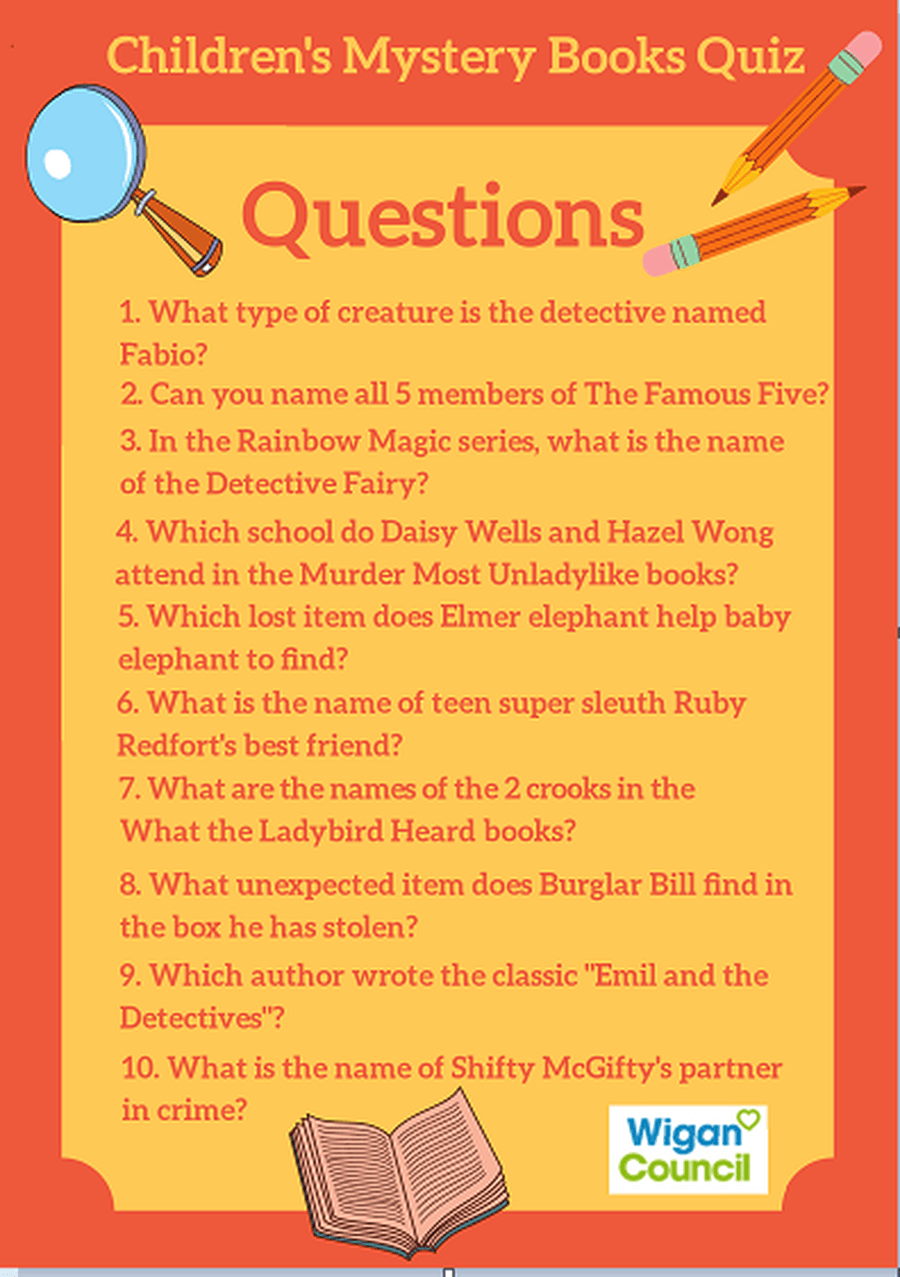 WB 11.5.20
Here is another learning pack that will/should last for the next 2 weeks! Print off from here, or pick up from the school office this week!
WB 4.5.20
VE Day is coming up on the 8th May! See below for some activities to help you learn about VE Day!
WB 20.4.20
New learning pack materials for the next 3 weeks are available! See below
Visit Purple Mash and go to the 2blog programme where you will find a Y3 Blog. Here, challenges and updates will be added and an opportunity for you to let us see what you have been up to!
https://www.purplemash.com/app/link/2blogchildren#/app/admin/5e7e242943f44134b93d7349
If you need to get in contact, email us via 2email on Purple Mash.
Take part in PE with Joe Wicks every morning at 9am - keep active!
https://www.youtube.com/channel/UCAxW1XT0iEJo0TYlRfn6rYQ
At St. Cuthbert's we follow a scheme called the White Rose! With school closures, they are producing daily maths lessons on their website to support parents! Click the link below to access this weeks fractions lessons...
I know how much you all enjoy the David Walliam's books and I am really missing our daily story time in school. David himself is hosting a story time at 11am each day on his website! Click on the link below to access it!
| Name | |
| --- | --- |
| Carnival Differentiated Reading Comprehension Activity.pdf | Download |
| Colour and Label Fractions Worksheet - Middle Ability.pdf | Download |
| Fossils Differentiated Reading Comprehension Activity.pdf | Download |
| Pet Care of a Bearded Dragon Differentiated Reading Comprehension Activity.pdf | Download |
| Roald Dahl Differentiated Reading Comprehension Activity.pdf | Download |
| T-PA-018-Year-3-Maths-Assessment-Number-Addition-and-Subtraction.pdf | Download |
| T-PA-019-Year-3-Maths-Assessment-Number-Fractions.pdf | Download |
| T-PA-020-Year-3-Maths-Assessment-Multiplication-and-Division.pdf | Download |
| T-PA-021-Year-3-Maths-Assessment-Number-and-Place-Value.pdf | Download |
| T-PA-022-Year-3-Maths-Assessment-Statistics.pdf | Download |
Welcome to Year 3!
Welcome to Year 3! You are now in Key Stage 2! this year you will learn lots of new things and have lots of fun too! Here are a few things to help you start off the year...
Children are not provided with fruit in the afternoon break time anymore. Instead, they may bring in a snack from home to eat during morning playtime. We ask that this snack is a healthy one, such as a breakfast bar or a piece of fruit. Crisp, sweets or chocolate bars are not allowed.

Children are allowed to drink water throughout the day. Therefore, we ask that you provide a water bottle that they can keep in class. These will be washed out and refilled regularly.

Reading books will be changed once per week. We spend lots of time reading with every child through the week and we ask that you also read with your child, make a brief comment and return the book every day. If they complete their reading book, encourage them to read anything else! We would love to hear about the other books they read.

Children in Y3W (Mr Wright) will be doing PE as normal in school on Thursday afternoons, so we ask that you bring a PE kit in as soon as possible so that children are ready to start. Y3S (Miss Smith) will be going swimming on a Thursday afternoon this term.
See below for more information!
Thank you,
Miss Smith and Mr Wright
News and Events
Monday 14th October
As part of our Stone Age topic we held an outdoor day to help us learn about that period of time! We did lots of activities like making our own mud paint, cave paintings, den building, fire making and orienteering!
Take a look at the pictures!
Monday 4th November
This week was humanities week. Each class studied a significant person from the past. In Year 3 we studied Anne Frank. We loved learning all about her and why she is important for us today. On Monday, we had a special visitor called Mrs Hensey, who taught us all about the Holocaust. She came back to visit on Friday too, where we showed her our work and invited her to a special collective worship in memory of Anne Frank and those who suffered during the Holocaust. Through the week we wrote our very own version of her diary, 'Kitty'.